GARY WALTEN "DID IT RIGHT!"
By Steve Gerrard, PSAI Cave Instructor Trainer, Puerto Aventuras
It seems like every six years you get a few folks who want to change things for the better. I have been reading with interest the comments made by various people about changing the cavern tour line at Cenote Taj Mahal (Maha) by removing the three permanent "T" intersections that have existed since its inception. First, I wish to make it clear that I agree that there should be no permanent "T" intersections for a cavern diving "tour" line as it is considered complicated. One continuous single line is the simplest and safest manner to follow. However, mother nature presents situations that we, as people, need to adapt to make things work in the safest and best way.
Gary Walten of Akumal served as the National Association for Cave Diving (NACD) Safety Officer during the early and mid 1990's and installed the current cavern tour line that exists in this popular dive site. As with every cenote, each one presents unique physical characteristics that challenges the rules we establish as a Safe diving community. The rules we accepted are the following:
1. Natural daylight.
2. No Decompression.
3. No restrictions.
4. Maximum depth: 100 feet/30 meters.
5. Linear distance: 200 feet/60 meters.
The cavern zone of Cenote Taj Mahal (Maha) was first explored during the winter of 1995 by Nancy DeRosa and her brother Wayne Nefzger. The first "official" cavern tour was performed that spring with Beth Exley (Sheck Exley's younger sister) and Mary Ellen Eckoff (Sheck's former wife and best friend) and me as the cavern tour guide. What made the dive rather unique was an avalanche of percolation that we created near the area known at Bil's Hole. Since then I would say that a minimum 40,000+ divers during 17 years have participated enjoying this cavern tour dive. There has never been an accident though I would not be surprised that there have been many incidents.
The cavern zone is basically shaped as an oblong hour glass configuration. You begin the dive from Cenote Taj Mahal (Maha) and enter a huge room with a large air dome named the "Points of Light". The natural light is provided by three holes in the ceiling and the entranceway. On cloudy days you have basically no light from the two smaller holes in the ceiling. The dive continues with a traverse to a second cenote known as Cenote Sugar Bowl at a depth of 12 feet/4 meters. It just makes it with within the established rule of 200 feet/60 meters linear distance. The dive continues back down a steep slope staying within the established rules with two more openings to natural daylight (Bil's Hole and a unnamed smaller hole into Cenote Esmeralda) forming a loop back to Cenote Sugar Bowl. To make this cavern tour dive enjoyable and be able to view everything safely he had to create three permanent "T" intersections. Two of them in the "Points of Light" room and one in open water at Cenote Sugar Bowl. Despite the established rules for safe cavern tours, Gary created the three permanent "T" intersections so that everyone could safely view and enjoy this unique cavern dive zone. As a reminder, two of the three "permanent "T" intersections are located in "open water".
Please view the map: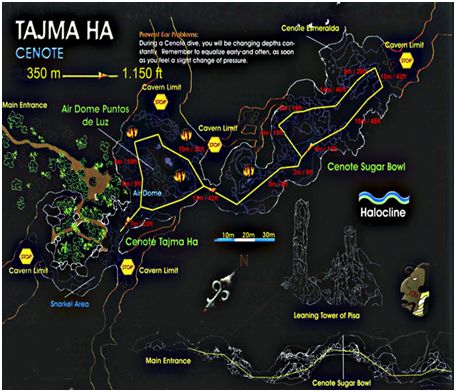 As you can view the map of this unique configuration I cannot see a better way to place the permanent guidelines for this cavern dive. Despite all the good intentions to make this dive safer and better, I strongly suggest to leave it as it is as Gary Walten "DID IT RIGHT".