PSAI Exhibits at ADEX 2011 in Singapore April 22 – 24
Hal Watts and Gary Taylor joined with the PSAI Country Licensees from Asia to exhibit at the 2011 Asian Dive Exposition (ADEX) in Singapore during the weekend of April 22 – 24. The show was a big success! Many were surprised to not only see just how many Manuals PSAI has for all areas of Sport and Technical Diving; they were delighted to see that the manuals exhibited at the PSAI Booth were in the English, Korean and Chinese languages.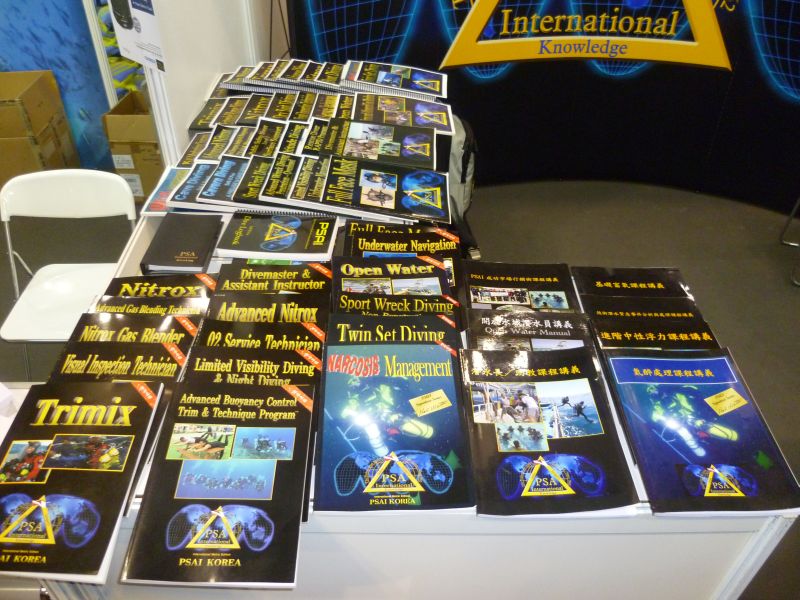 The commitment to quality in materials, content, education and training is what had so many at the show interested in PSAI. The unique training programs offered by PSAI also caught the attention of the attendees.
Not only were people interested in the diver level courses offered by PSAI, but there were many Instructors who were ready to crossover to PSAI after finding out how PSAI could be of benefit to them and their goals in the diving profession.
PSAI is committed bringing the experience of the world's oldest technical diving agency and most progressive sport and technical dive education to Asian dive market. For more information contact PSAI Global Headquarters or the nearest PSAI Country Licensee.